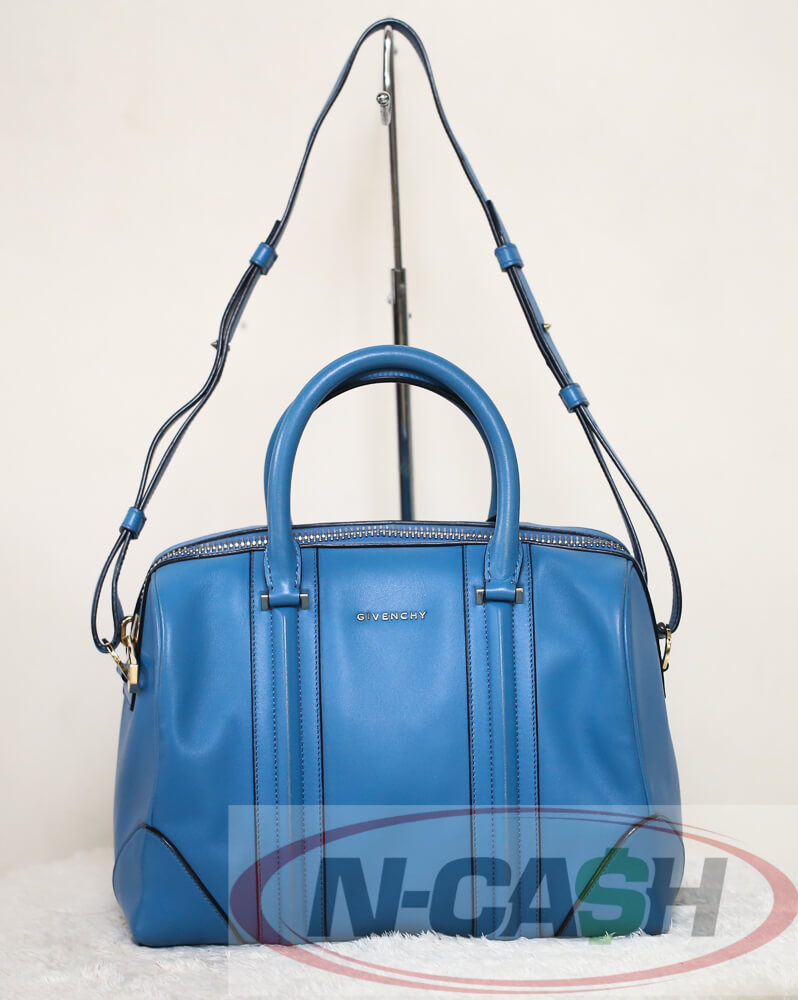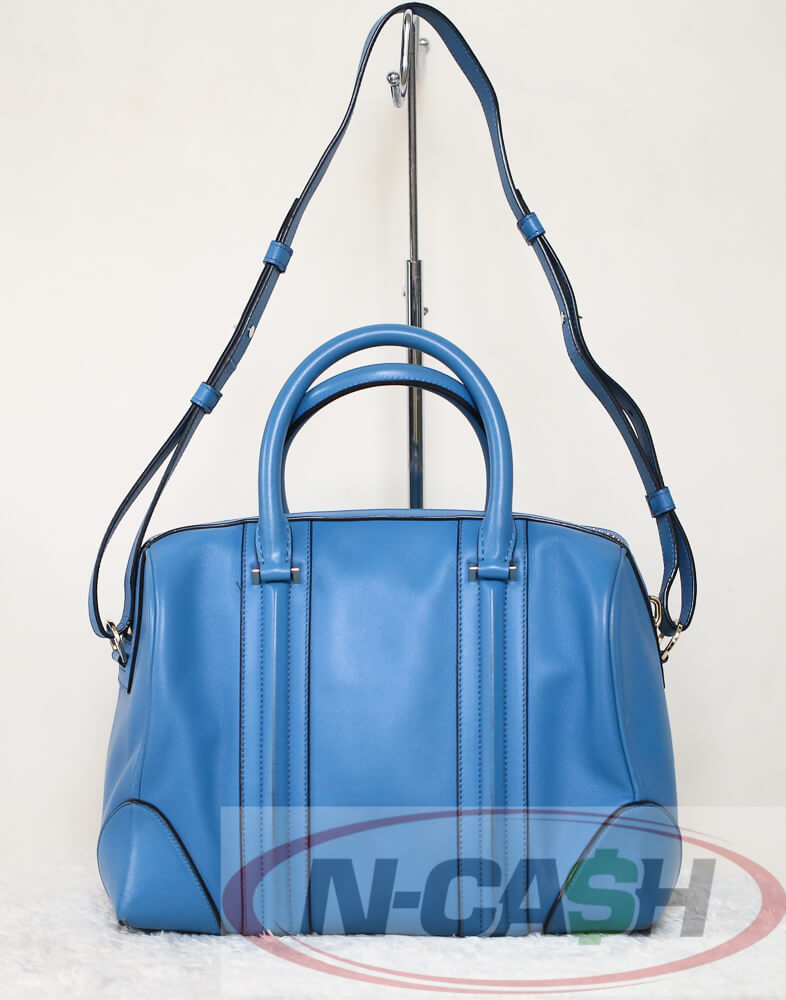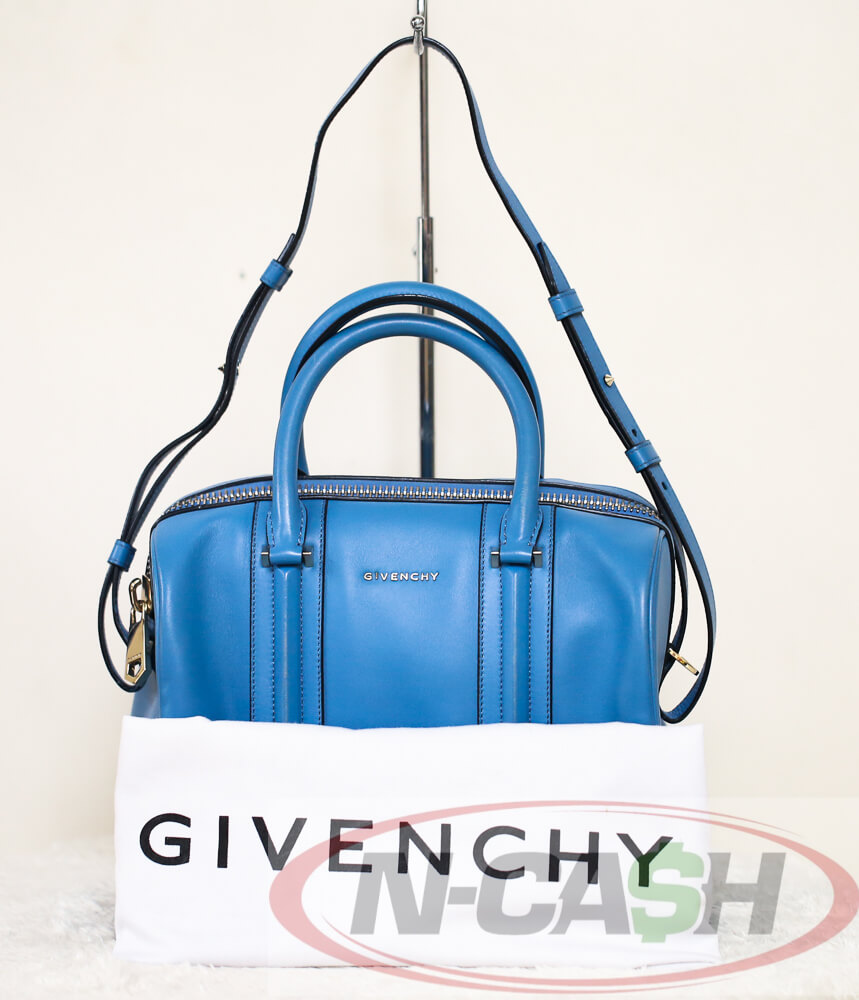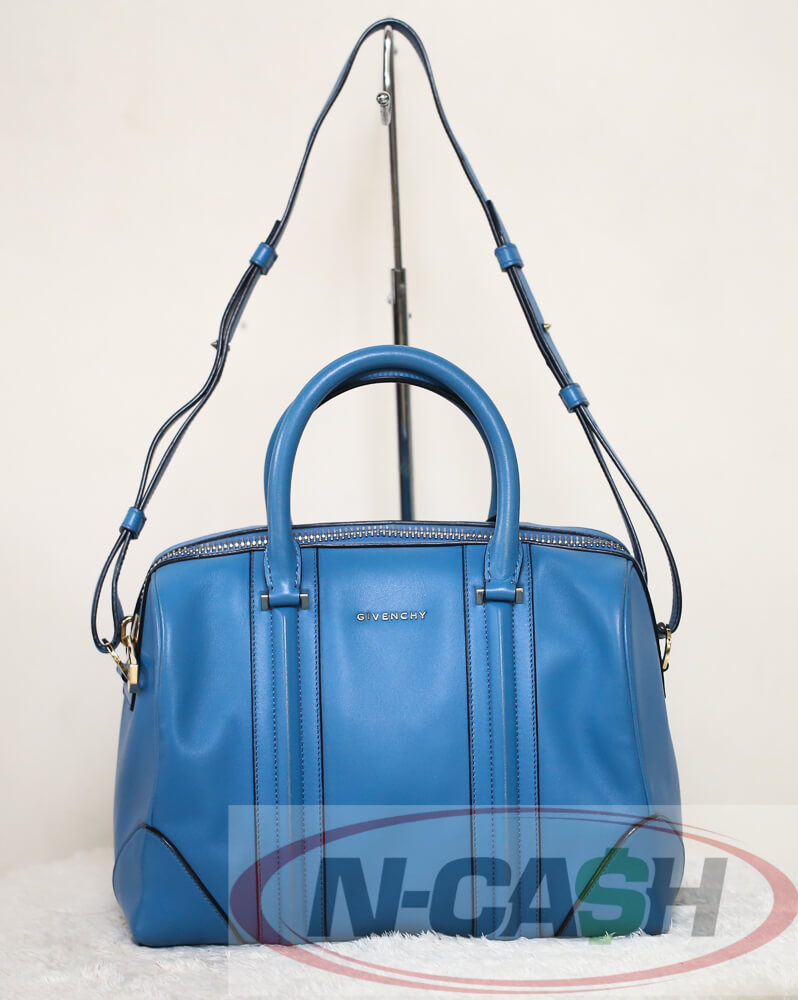 PRE-OWNED
Brand: GIVENCHY
Measures: 12″ L x 10″ H x 7″ D (approx)
Double Handles Drop at 6″
Detachable Adjustable Shouder Strap
Material: Blue Lambskin
Textile Lining
Detachable Adjustable Strap
Hardware: Gold-Tone
Made in Italy
Serial Number: EF1112
Current Retail  Price $2750
ITEM INCLUSIONS:
Detachable strap, Care Card, Dust Bag and Material Swatch
EXTERIOR CONDITION:
MATERIAL: Calfskin is in good, pre-owned condition. There are faded areas, rub marks and scuffs. Edges/tips of the embossed leather piping show discolouration/fading/darkening. Moderate wear on the corners. Leather attachment of the long strap shows white scuffs. Wear on the glazing.
HARDWARE: Fully functional and shiny showing. Faded zipper teeth.
HANDLES: Firm, showing wear particularly on the base of the handles.
DETACHABLE STRAP: Moderate wrinkling. Wear on the glazing and edges.
BOTTOM CORNERS: Rub marks.
INTERIOR CONDITION:
Presentable and clean, showing light wear.
OVERALL CONDITION:
THIS GIVENCHY LUCREZIA BAG IS IN PRE-OWNED CONDITION WITH WEAR/SIGNS OF USE AND IMPERFECTIONS. ALL ANGLES OF THE BAG ARE POSTED, PLEASE REVIEW THEM CAREFULLY TO GET AN APT DESCRIPTION OF THIS ITEM. KINDLY PLEASE CHECK OUT ALL PHOTOS AS THEY SHOW ALL SIGNS OF WEAR.
Selling for only PhP 34,488