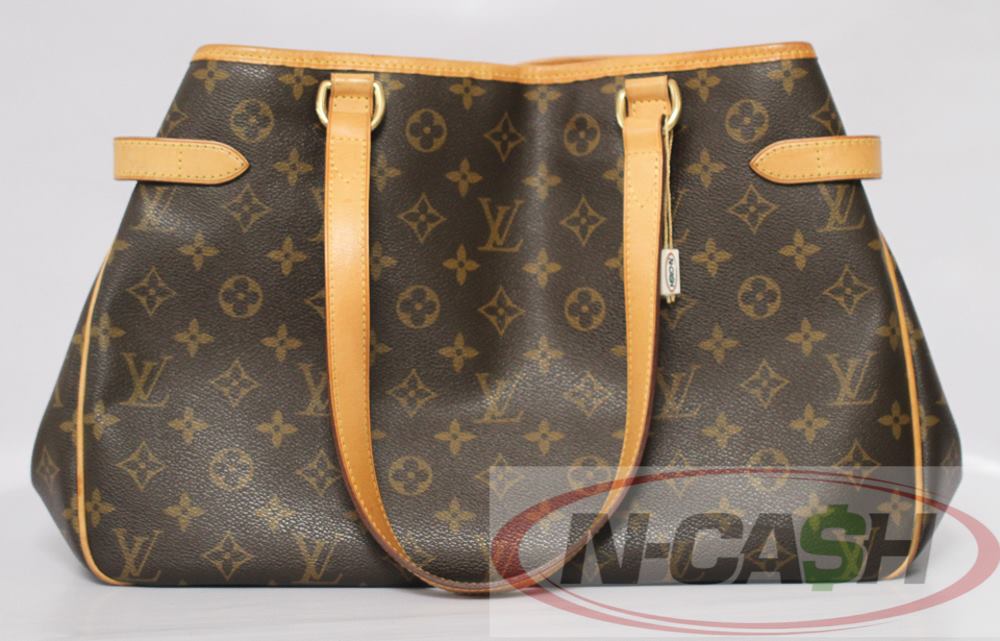 AUTHENTIC $1030 Louis Vuitton Monogram Batignolles Horizontal Bag
PRE-OWNED
Brand: LOUIS VUITTON
Measures: 15″ L x 10″ H x 4.5″ D (approx)
Double Flat Handles Drop at 10″
Hook Closure
Material: Monogram Canvas
Textile Lining
1 Internal Zippered Pocket and 1 Patch Pocket
Hardware: Gold-Tone
Made in France
Date Code: SA2069
Retail Price of $1030
KCD INITIALS STAMPED ON THE STRAP
ITEM INCLUSIONS:
NONE
EXTERIOR CONDITION:
MATERIAL: Monogram canvas is in excellent condition. Normal folds are seen at the side leather panels.
VACHETTA/LEATHER TRIMS: Vachetta is in medium honey Patina, showing water stains, light dirt, and creases. Piping along the opening shows moderate creases, dirt and stains. Piping appears darker than the rest of the leather pieces.
HARDWARE: Fully functional, showing moderate traces of light wear and oxidation.
HANDLES: KCD initials stamped on one of the handles. Medium honey Patina, showing moderate creases, light stains, particularly seen on the undersides.
BOTTOM CORNERS: Moderate to heavy corner wear.
INTERIOR CONDITION:
Two spots of oil stains near the opening, otherwise interior is clean and presentable.
OVERALL CONDITION:
THIS LOUIS VUITTON BATIGNOLLES BAG IS IN PRE-OWNED CONDITION WITH WEAR/SIGNS OF USE AND IMPERFECTIONS. ALL ANGLES OF THE BAG ARE POSTED, PLEASE REVIEW THEM CAREFULLY TO GET AN APT DESCRIPTION OF THIS ITEM. KINDLY PLEASE CHECK OUT ALL PHOTOS AS THEY SHOW ALL SIGNS OF WEAR.
Selling for only PhP 15,000.