Apart from the serial number of your Rolex, you will find another set of numbers in your Rolex card or certificate (for pre-2006 models). This is called the Rolex model number (or style number for the sample photo). Enthusiasts often refer to a Rolex by these codes. These set of numbers follow a classification and breaks down as follows: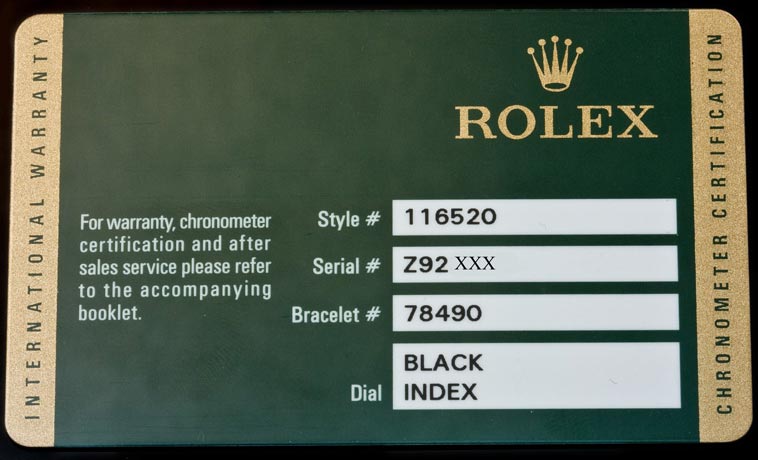 First three digits designates model on traditional Rolex models:
140 = Oyster Perpetual Air King and Submariner
142 = Oyster Perpetual Chronometer 34mm and Explorer
152 = Oyster Perpetual Date – Mens 34 mm
162 = Oyster Perpetual DateJust – Mens 36mm
165 = Explorer II
166 = Submariner – SeaDweller – Yachtmaster 40mm
167 = GMT Master II
170 = Oyster Quartz DateJust
189 = Oyster Perpetual Special Edition
190 = Oyster Quartz Day-Date
1165 Cosmograph Daytona
1182 Oyster Perpetual Day-Date
1183 Oyster Perpetual Day-Date Serti (With Diamonds)
After 2004-2006, the newer Rolex models have an extra 1 preceeding the model number. For example, a traditional, two-toned bezel GMT has a model number of 16710, but the newer super-cased, ceramic bezeled GMT is listed as a 116710 (extra preceeding 1).
The next digit is the bezel code. For example, a 16710 has a smooth/domed bezel. Professional watches are excluded from this list.
0 = Smooth/Domed
1 = Engine Turned
2 = Engraved
3 = Fluted
4 = Bark
5 = Pyramie (Not Used)
6 = Turn-O-Graph
7 = Various
8 = Special (Not Currently Used)
9 = Open (Not Currently Used)
The next (sixth) digit is the metal code. In the case of a 16710, the 0 signifies stainless steel.
0 = Stainless Steel
1 = Yellow gold Placor (Tudor)
22 = Stainless steel and Platinum (Ya.phpaster)
3 = Stainless Steel and 18k Yellow gold (Yellow Rolesor)
4 = Stainless Steel and 18k White gold (White Rolesor)
5 = Gold Shell (No Longer Used)
6 = Platinum
7 = 14k Yellow gold (No Longer Used)
8 = 18k Yellow gold
9 = 18k White gold
BIC = Bi-Color 18k Yellow and White gold combo
TRIDOR = 18k Yellow, White and Rose gold
Lately, Rolex has been adding letters preceding the model numbers. (ex. 116610LN, 116610LV). These letters represent the original color of the dial and bezel that a Rolex came with. (116610LN is for a Submariner with black dial and bezel while a 116610LV is for a Submariner with a green dial and bezel which is commonly know as "Hulk")
Going back to the sample card above, you can now identify the exact watch that the card belongs to. 1165 is the model code for the Cosmograph Daytona; 2 means that it has an engraved bezel; and 0 means that it is made of stainless steel.
Here at N-CASH, we know watches.
N-CASH Pawnshop
"Manila's Trusted Pawnshop of Rolex and Other Swiss Brands"
SMS: +639175341811
Landline: (02) 9943240
Copyright 2016. N-Cash ™. All Rights Reserved .
For a more comprehensive guide to Rolex numbers, please click this link.
Please follow and like us: